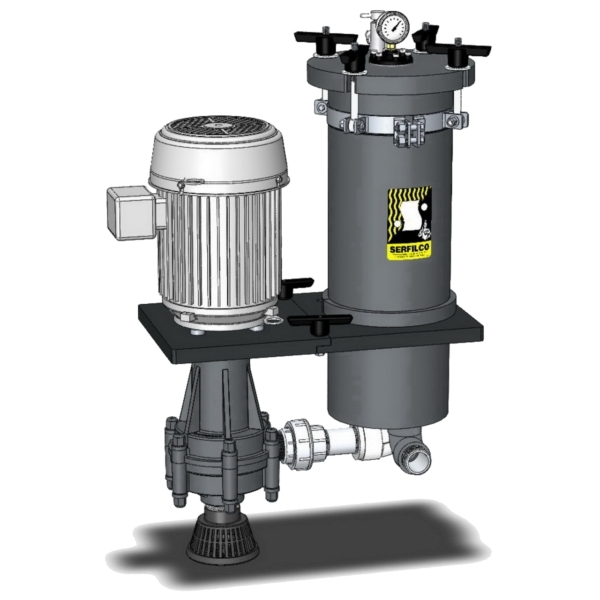 Admiral EHJ
Application
Electroplating, printed circuit board, fume scrubber
Performance
5800-10,000 gph
Specifications
Please see product bulletin for details
Features
- Flow rates from 5,800 to 10,000 GPH
- Runs dry without damage
- Handles temperatures to 180°F
- Designed for reservoir installation
- Improve finished goods quality, eliminate scrap and rework
- Minimize downtime and maintenance with dry-run 'EH' pump
- Easy cartridge change - no tools required
- Non-metallic solution contact CPVC with EPDM elastomers FKM elastomers optional
- High filter surface area - 6-20", 30" or 40" cartridges
- Compact package
- Economical OEM replacement
- Reduce chemical consumption by maintaining solution quality
- Higher continuous flow and filter area than original equipment systems
---
SYSTEM: ADMIRAL 'EHJ' filtration systems consist of a CPVC pump and filter chamber, assembled on a 2-piece modular PVC mounting plate. The mounting plate is joined with a rabbet joint and secured with SS 316 hardware. The pump discharge and filter inlet are connected by a union fitting. This arrangement allows simplified installation and convenient pump removal for reservoir or pump maintenance. The standard mounting plate is 22" x 12" overall. Custom plates are available.
FILTER: Innovative design with oversized inlet and outlet allows extended intervals of high flow operation with minimal pressure drop. The chamber is constructed of CPVC with EPDM elastomers and is available with 6 - 20", 30" or 40" cartridge capacity. Chamber includes swing bolt cover closure with 'T'-handles, therefore, no tools are required for easy cartridge changing. Also included is a 0 - 60 psi gauge with guard assembly and a vent valve assembly designed to direct vent mist back to the reservoir. Chamber features totally non-metallic solution contact and SS external hardware.
PUMP: Industry leading Series 'EH' pumps will provide years of quiet, efficient, trouble-free operation. Constructed of CPVC with standard EPDM elastomers, TFE vapor seal and polyethylene suction strainer. These pumps provide totally non-metallic solution contact. The cantilever shaft, Series 'EH' pump will even run dry without damage. Motors are 1.5 to 7.5 HP, 230-460V/3Ø/50-60Hz, 2850/3450 RPM with 1.15 service factor. They are chemical service, TEFC with oversized bearings, two-part epoxy paint and SS tag.