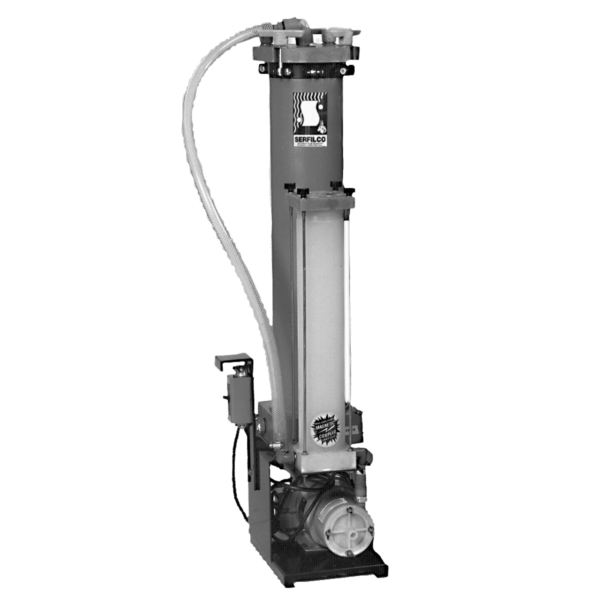 Carbon System
Application
THE BEST AND LOWEST COST WAY TO PURIFY BRIGHT NICKEL, ACID COPPER AND SIMILAR SOLUTIONS.
Specifications
Please see product bulletin for details
Features
- Modular design accommodates custom requirements
- Compact pre-engineered systems can be used on multiple baths thus saving in equipment cost
- Leakproof assembly, easy servicing
- Available for use with: Bulk carbon, carbon canister or carbon cartridges
- Eliminates down-time
- Systems are adaptable to almost any type of use: Continuous or intermittent, total or partial flow, with or without pre-filtering
- Magnetic-coupled pump
- Optional pre-filter
---
Granular Carbon Purification Systems provide a simple, economical and efficient method of removing organic impurities from electroplating or other chemical solutions. Three product lines are offered: Labmaster, Space-Saver, and Guardian. The user can choose the particular model that is right for his/her application, flow rates, and the degree of solution purity required. Carbon canisters include trap filter. Connect the Carbon Purification System to your plating tank to achieve efficient organic removal. Select a system with replaceable carbon cartridges or with a chamber which has removable and refillable bulk carbon canister. The latter also accept C528PE powdered carbon cartridges which are interchangeable with the canisters. Seal-less, leak-proof pumps are rugged enough for continuous duty in systems that require total flow through the carbon chamber for effective organic removal, or they can be used at partial flow, as required. Units can be connected to a plating bath for continuous carbon treatment, then disconnected and used on another tank.Thus, one system can serve several tanks. Pre-filters, offered optionally, protect the carbon from contamination by efficient removal of solid impurities that could render the carbon inefficient. Larger and custom systems available to meet your particular application. Consult Sales Dept. for assistance.


0240 Carbon Purification Chambers Operation and Service Guide
Download file

0500 Carbon Purification Chambers Operation and Service Guide
Download file