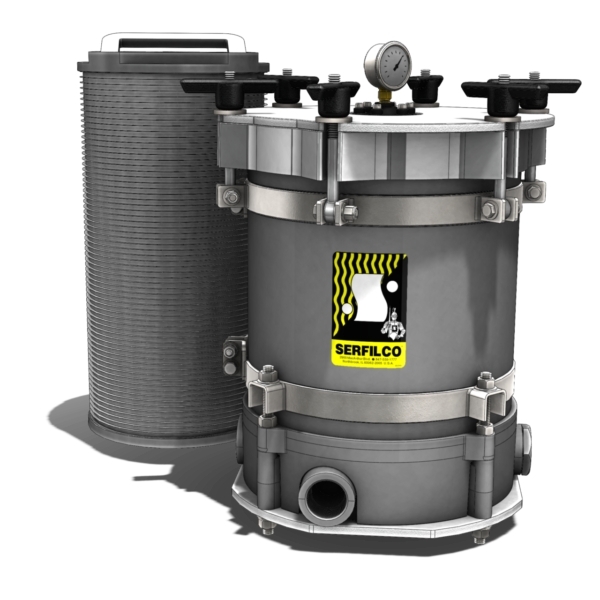 G Series Disc Chamber
Application
WATER TREATMENT / FOOD PROCESSING CLEANING / PHOTOGRAPHIC ELECTROPLATING / PHARMACEUTICAL CHEMICAL / PETROCHEMICAL / BEVERAGE
Materials
PVC, CPVC or PP
Performance
15-45 sq. ft.
Specifications
Please see product bulletin for details
Features
- Non-metallic solution contact PVC, CPVC or PP construction EPDM elastomers standard, FKM optional
- High flow rates Up to 6000 GPH (22,700 l/h)
- Ease of Service SS Swing bolt cover closure Stack assembly for quick media change
- Heavy duty construction Pressure and temperature capabilities to meet wide variety of applications
- High capacity - 15, 30, 45 ft² (1.4, 2.8, 4.2 m²) solids area
- Choice of filter media: Cellulose discs for 5, 10, 20 & 40 micron filtration Use alone or with filter aid and/or powdered carbon Carbon discs for purification Interchangeable with filter discs
---
These disc filter chambers are designed for quality filtration of plating and other chemical solutions. The large surface area with I.D. and O.D. edge seals on all filter discs assures optimum performance and clarity of solution being filtered. Disc filters may be used with a precoat of filter aid alone or with a mixture of filter aid and powdered carbon. Carbon discs are also available and may b e installed in total or in partial to accomplish the proper degree of organic removal. Some applications may allow filtration without a media precoat. Chambers include a drip pan to catch run-off liquid when servicing discs. Disc chambers are serviced by lifting the cover and disc stack assembly from the chamber, facilitating a cleaner change-out and less solution loss than with other designs. No messy "floating" of the disc is required when changing the disc media.

C-303 Series 'G' Disc Filter Chambers Product Bulletin
Download file

1035 Series 'G' Disc Filtration System Operation and Service Guide
Download file