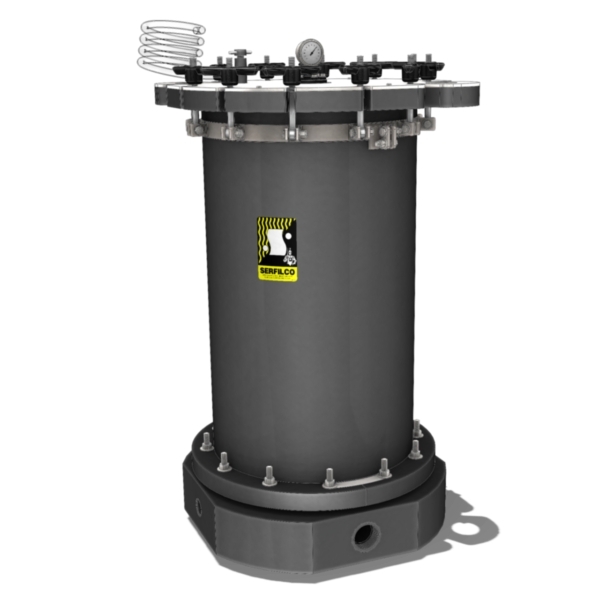 HF Chamber
Application
CHEMICAL / ELECTROPLATING WASTE TREATMENT / WATER TREATMENT COOLING TOWER / AQUACULTURE
Specifications
Please see product bulletin for details
Features
- Rugged construction, non-metallic solution contact
- High capacity - 26" filter cartridges
- Low pressure drop - 4 psi @ 200 gpm
- Flows to 400 gpm
- Standard 0-60 psi gauge with guard
- 'T'-handle cover closure
---
SERIES 'HF' chambers feature precision CNC machined base and cover. The innovative base design has 3" inlet and outlet ports providing low pressure differential. Base includes a 1" plugged drain port for ease of maintenance. Cover includes vent valve, 0-60 psi pressure gauge with guard assembly, and SS cover plate. Cover is secured with swing bolts and 'T'-handles (no tools are required to change cartridges). Shell is 18" diameter and will hold 26 - 20", 30", 40" or 50"* D.O.E. (double open end) style cartridges. Internals included are CPVC cross posts and PP cap springs to ensure proper cartridge location and eliminate solution bypass. Base, shell and cover are PVC for totally nonmetallic solution contact. Elastomers are EPDM and all external hardware is SS.
- Long service life - will not rust or corrode
- Continuous high flow particle removal improves your process and finished goods
- Long intervals between cartridge changes reduces maintenance cost.
- Easy to operate and install.
- Efficient to operate - low pressure differential

C-112 Series 'HF' Plastic Filter Chambers Product Bulletin
Download file

0888 Plastic Filter Chambers Operation and Service Guide
Download file

0867 Series 'HF' Filter Chamber (HI-FLO) Parts List
Download file