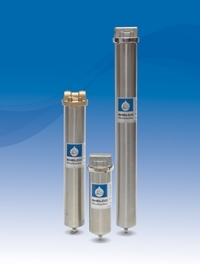 RH Series
Application
Water, Chemicals, Food & Beverage, Electronics, Oil, Inks / Paints / Coatings, Coolants, Pulp & Paper
Materials
Head / Shell: RHS 316L SS / 316L SS RHB Brass / 304L Stainless Steel Drain: RHS - 316L SS Plug RHB - Brass Petcock Ring: RHS -Nickel Plated Brass RHB - Brass
Specifications
Please see product bulletin for details
Features
- Designed for industrial and commercial filter applications
- Accepts Double Open End (DOE) and Single Open End (SOE) 213 Internal O-ring
- Spring loaded knife edge seal provides positive sealing for variable length cartridges
- Numerous gasket options for compatibility with most fluids
- Heavy duty construction for maximum durability
- Available with 1/2", 3/4" and 1" in-line connections for easy installation.
- Supplied with mounting bracket kit and wrench
---
Shelco's Single Cartridge Housings have been a standard in the industry for more than 30 years. Our stainless steel housings are constructed in 304L or 316L stainless steel, brass head with 304L stainless steel body or cast iron head and steel body. Our metallic housings are available with wide variety of gaskets, and are designed to be compatible with most industrial liquids and work in a wide range of applications. Our plastic housings are constructed of FDA materials and offer a high-quality, economical alternative to metallic housings in applications with corrosives or sensitive fluids.
Single Cartridge Filter Housings with Ring Nut Closure for Double Open Ended Cartridges