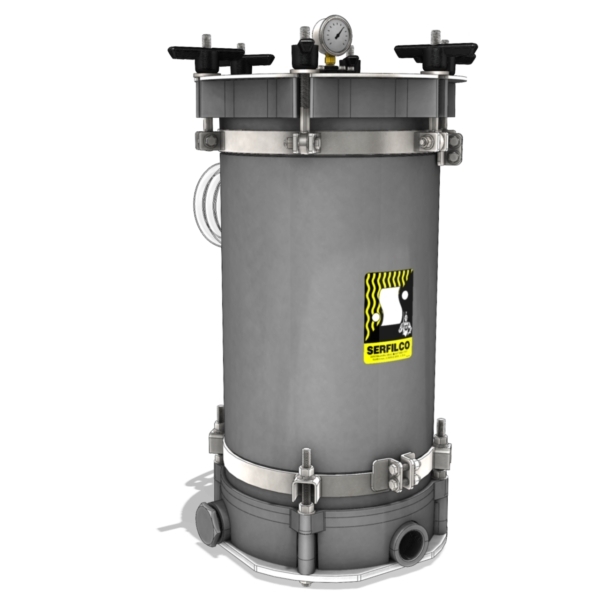 Serfilco G Chamber
Application
WATER TREATMENT / FOOD PROCESSING CLEANING / PHOTOGRAPHIC ELECTROPLATING / PHARMACEUTICAL CHEMICAL / PETROCHEMICAL / BEVERAGE
Specifications
See product bulletin for details.
Features
- Non-metallic solution contact CPVC, PVC or PP
- Pressure ratings to 80 psi
- Cartridge guides with screw-on caps
- 0-60 psi pressure gauge with gauge guard
- Easy service Swing bolt cover closure
- Heavy duty construction
- Positive O-Ring seal at base and cover
- SS external hardware
- From 12 to 60 - 10" cartridge capacity
- Port size 1 1/2NPT or optional BSP
---
Flow rates to 125 gpm depending upon size of chamber, style of filter cartridge, solids content, viscosity, pressure drop and degree of clarity desired. Pressure ratings of filter chambers depend upon the temperature of solutions being filtered. All chambers have cover swing bolts with tee handles, SS swing bolt and hold down brackets; cartridge guides with screw-on cap, 0-60 psi pressure gauge with gauge guard, EPDM gaskets and drain plugs. All fasteners are SS. For use with DOE (Double Open End) cartridges. These filter chambers are designed for filtering process solutions where clarification will extend operating life and improve quality.