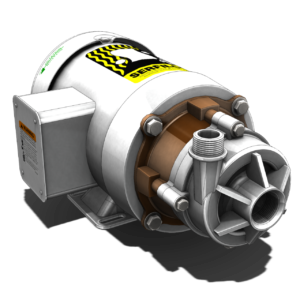 Serfilco "HC" Pump
Application
HIGH EFFICIENCY AND LOW ENERGY USAGE FOR: WASTES / ACIDS / PLATING CHEMICALS / PHOTOGRAPHIC ETCHING / SCRUBBING
Performance
Flow Rate: 10-70GPM Pressure: 53FT
Specifications
Please refer to data sheets
Features
Flows to 78 gpm or 53' TDH @ 60 Hz
Single or double mechanical seal Carbon/ceramic or silicon carbide EPDM or FKM elastomers
Standard models provide non-overloading full flow with liquids to 1.2 S.G.
Non-metallic solution contact - CPVC or 100% PVDF
Centrifugal - quiet, vibration-free
Chemical duty motor (1/3 - 1-1/2 HP)
---
Series 'HC' pumps have 1" FNPT suction x 3/4" MNPT discharge and are available in CPVC or 100% PVDF. Series 'HK' pumps have 1 1/2" MNPT suction x 1 1/2" MNPT discharge and are available in CPVC with PVDF suction casing or 100% PVDF. Standard elastomers are FKM, EPDM is available. All models utilize a molded, semi-enclosed impeller. Mechanical seal is Type 21, externally mounted with SS components not in solution contact. Double mechanical seal is designed for flushing the seal chamber with water and is recommended for applications where abrasives or salts are present, or for conditions where metal deposition will occur. In addition, double water flush sealed pumps will permit dry run operation. Standard mechanical seal faces are silica-free ceramic/carbon (M1) and (M2). Silicon carbide seal faces (M8) are available and recommended for critical applications. Motors are chemical duty with sealed oversize earings, cast iron end bells, two-part epoxy finish, and SS tag. Motors are rated with 1.15 service factor at 50 or 60 Hz.