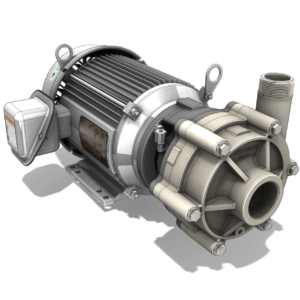 Serfilco "HE" Pump
Application
ACID / AQUEOUS / CAUSTIC CHEMICAL / ETCHING / PHOTOGRAPHIC PLATING / SCRUBBING / WASTES
Materials
PP, CPVC, PVDF, ECTFE
Performance
Flow Rate: 20 - 175GPM Pressure: 130FT
Specifications
Please refer to data sheets
Features
Flows to 175 gpm or 130' TDH @ 60 Hz
Single or double mechanical seal
NPT or metric connections available
Non-metallic solution contact PPP, CPVC, PVDF or ECTFE
Centrifugal - quiet, vibration-free
Chemical duty motor
---
Here is a Horizontal Pump capable of "total" chemical resistance, both internally and externally with its Non-metallic Construction of all wetted components, choice of seal assembly and elastomer materials. Engineering grade plastics provide application compatibility with a varietyof chemicals that would be corrosive to other materials of construction.
The totally enclosed impeller is molded to close tolerances which allow this pump to operate at peak horsepower efficiency across a broad range of operational flow/head requirements. The external mechanical seal and impeller sleeve design isolates metal components to provide non-metallic solution contact with the pumped solution.
The standard (M8) Mechanical Seal assembly has silicon carbide seal faces and is the most durable and longest lasting mechanical seal available. The double mechanical seal models require water lubrication of the seal faces and allows the pump to be used for solutions containing abrasives, high salt concentrations and for electroless plating solutions. Standard models are constructed of CPVC, PP, PVDF or ECTFE with threaded connections. Elastomers are EPDM or FKM. The mechanical seal is type 21, externally mounted with SS components not in solution contact.
A Double Mechanical Seal is recommended for solutions containing abrasives and for high temperature or other critical service. Close coupled motors are NEMA 'JM' or metric (IEC) standard. The motors designated NEMA can operate on 50 or 60 Hz at full rated horsepower.
Consult Application Engineering Department for BSP fittings or adapters.