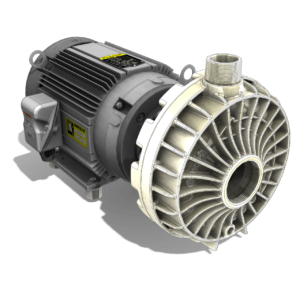 Serfilco "HF" Pump
Application
Fume Scrubbers / Acid Transfer
Performance
Flow Rate: 50 - 400GPM
Specifications
Please refer to data sheets
Features
Non-metallic solution contact
Centrifugal, quiet, vibration free
Chemical duty motor
High efficiency low energy usage
PPP high temperature polypropylene, CPVC or PVDF
Single or double mechanical seal with EPDM or FKM elastomers
ANSI dimensional - with optional flanged connections
---
The Series 'HF' Horizontal pump represents the next generation of molded pumps from SERFILCO. The 'HF' retains a robust design and non-metallic solution contact to meet the most demanding applications while providing the choice of materials of construction and economy found in all of our molded pumps. The 'HF' is offered in a choice of our exclusive PPP (high temperature polypropylene) or CPVC construction and is ANSI dimensional with the optional flanged connections. The totally enclosed impeller is molded to close tolerances which allow this pump to operate at peak horsepower efficiency across a broad range of operational flow and head requirements.
The external mechanical seal and impeller sleeve design isolates metal components to provide non-metallic solution contact with the pumped solution. The standard (M8) seal assembly has silicon carbide seal faces and is the most durable and longest lasting mechanical seal available. The Double Mechanical Seal models require water lubrication of the seal faces and allows the pump to be used for solutions containing abrasives high salt concentrations and for electroless plating solutions. Standard models have sleeved shafts for non-metallic solution contact, all hardware not in solution contact is SS. Elastomers are EPDM or optional FKM. All models have an enclosed impeller and externally mounted Type 21 mechanical seal with silicon carbide seal faces.
A double mechanical seal is recommended for solutions containing abrasives and for high temperature of other critical service. Motor is painted with two-part epoxy paint. ANSI 150 lb flange connections are optional.