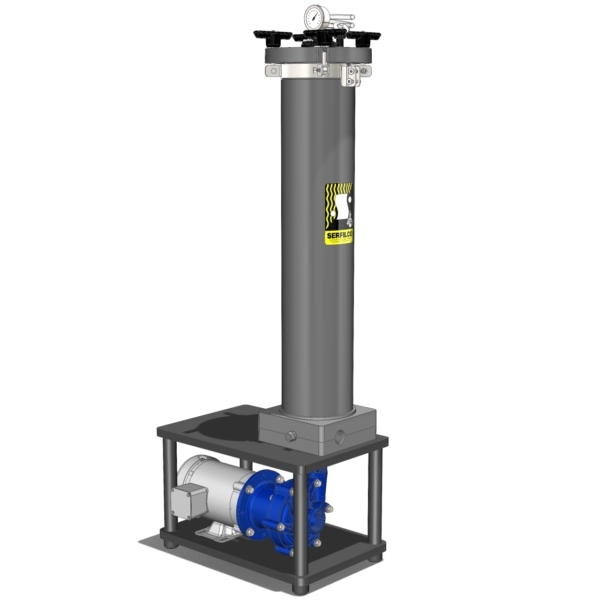 Space - Saver SME
Application
PRINTED CIRCUIT BOARD PROCESSING, ELECTROPLATING, CLEANERS, RINSES
Performance
1700 - 3200 gph
Specifications
Please see product bulletin for details
Features
- Series 'ME' magnetic coupled pumps which can run dry without damage!
- Series 'S' filter chamber with 0-60 PSI pressure gauge
- Filter chamber bottom inlet for low pressure drop
- Hard piping and wet testing prior to shipment
- Corrosion resistant PVC hooded mounting base
- EPDM elastomers standard
- SS external fasteners and a PP vent valve or PVDF vent plug
---
The SERFILCO Space-Saver 'SME' Series is engineered to provide reliable, high performance filtration in a small package. These systems feature our Series 'ME' extended dry run magnetic coupled pump and industry proven, rugged design, Series 'S' filter chamber. The system package includes a corrosion resistant PVC hooded mounting base which protects the pump and motor and supports the filter chamber at a convenient height for cartridge changing. Systems are available in CPVC, PVC or polypropylene with a polypropylene pump, or in PVDF with a PVDF pump. EPDM elastomers are standard. External hardware is stainless steel.
COMPACT, HIGH FLOW FILTRATION DRY RUN CAPABILITY

F-219 Space-Saver 'SME' Filtration System Product Bulletin
Download file

0776 Space-Saver 'SX', 'SM' and 'SME' Filtration Systems Parts List
Download file