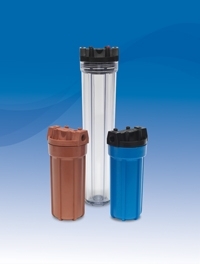 SPH Series
Application
Water, Chemicals, Food & Beverage, Electronics, DI Water, Inks / Paints / Coatings, Coolants, Pulp & Paper
Materials
Polypropylene, Styrean-Acrylonitritle
Specifications
Please see product bulletin for details
Features
- Economical alternative to metal filter housings in low pressure and cold water applications
- Ideal for corrosive or sensitive fluids
- Holds standard 2 ½" and large 4½" diameter cartridges
- Meets FDA requirements for potable water and food and beverage applications.
- Rugged design provides trouble-free service
- Holds 10 and 20 inch length cartridges with DOE or internal o-ring end cap configurations
- High temperature housings made of reinforced Nylon for use up to 200˚F (93˚C)
- Optional mounting bracket available for easy installation
---
Shelco's Single Cartridge Housings have been a standard in the industry for more than 30 years. Our stainless steel housings are constructed in 304L or 316L stainless steel, brass head with 304L stainless steel body or cast iron head and steel body. Our metallic housings are available with wide variety of gaskets, and are designed to be compatible with most industrial liquids and work in a wide range of applications. Our plastic housings are constructed of FDA materials and offer a high-quality, economical alternative to metallic housings in applications with corrosives or sensitive fluids.
Plastic Filter Housings for Economical Applications