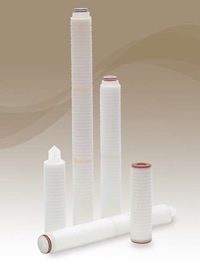 WGAS Series
Application
RO Pre/Post Filtration, Food & Beverage, DI Water, Bottled Water, Plating Solutions, Microelectronics, Specialty Chemicals, Process Water, Water & Wastewater, Cosmetics
Materials
Asymmetric Polyethersulfone, Polypropylene
Performance
0.03, 0.1, 0.2, 0.45, 0.65, 1.0 microns absolute retention
Specifications
Please see product bulletin for details
Features
- 6.0 square feet (0.56 m2) of media surface area per ten inch length for optimal performance
- 100% polypropylene construction offers wide range of chemical compatibility
- Manufactured in state-of-the-art white room environment for high purity
- Meets USP Class VI Biological Test for plastics.
- Cost effective absolute filtration for less critical applications not integrity tested
- Rigid, molded cage protects pleated media and strengthens structural stability
- Complies with Food & Drug Administration's CFR criteria for food & beverage contact
- Available in common end cap configurations to fit most filter housings
---
Polyethersulfone Membrane Filter Cartridges for Economical Applications membrane filter cartridges are the premier choice when high purity and absolute retention are prerequisites for the filtration process. These premium performance cartridges are available with polyethersulfone, polysulfone, Nylon 6,6 and PTFE membranes and designed with the maximum surface area to optimize service life and reduce user costs. Each filter is manufactured and integrity tested in a state-of-the-art Class VI clean room under a stringent quality management system to ensure it meets the requirements for critical applications in the general industrial, beverage, electronics and pharmaceutical markets.