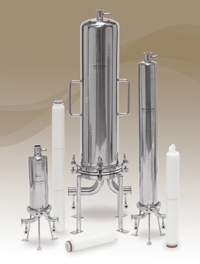 SFH Series
Application
Ultrapure Water, Food & Beverage, Fine Chemicals, Wine/Beer,Electronics, Vent, Pharmaceuticals, DI Water
Materials
316L Stainless Steel
Performance
3-5gpm per 10inch cartridge
Specifications
Please see product bulletin for details
Features
• Designed for critical applications requiring high purity and durability
In-line single cartridge design:
- Ideal for vent applications
- Available for 1 through 21 cartridges
- Swing bolt closures for rugged design and secure sealing
• Available with 226 or 222 style cartridge connectors
• Optional Sanitary Twist Valve is available for easy sampling of process fluid
• All wetted parts are 316L Stainless Steel electro-polished with standard 25RA internal finish and 32RA external finish.
- Tri-clamp closure for easy cartridge change-outs
T-style housing design:
- Tri-clamp closure for single cartridge housing
- Removable bottom seal plate allows ease of cleaning
• 1 ½" TC Gauge Port and ½" TC vent and drains are standard
---
For demanding applications that require filter housings with high purity or sanitary construction, reliability and durability, Shelco's Filters' MicroVantage™ filter housings offer the perfect choice for critical process streams. The SFH Series Sanitary Filter Housings feature high polish RA finishes and removable tube sheets for ease of cleaning and sanitization. All HP Series High Purity filter housings provide a cost-effective alternative for high-end industrial applications requiring housings with electro-polished finish, double o-ring cartridge connectors and other quality features.