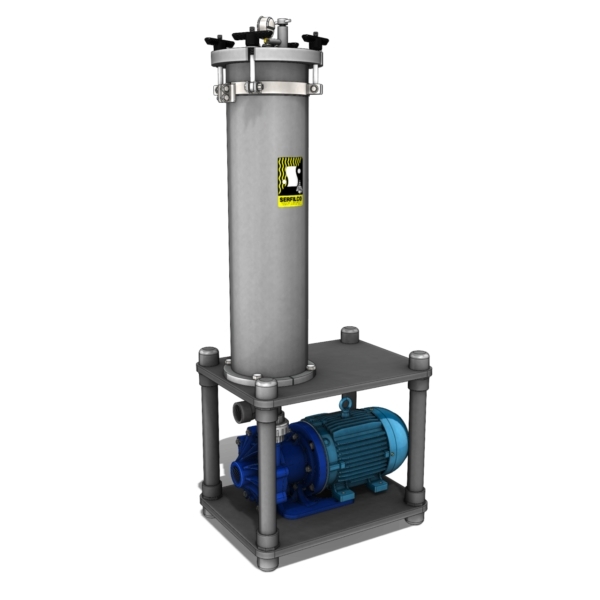 Space - Saver J
Application
COMPACT, HIGH FLOW FILTRATION, CARBON OR RESIN PURIFICATION
Performance
1800 - 6000 gph
Specifications
Please see product bulletin for details
Features
- Choice of pump
Highly efficient seal-less magnetic coupled pumps provide total solution containment and reliable performance.
Mechanical seal pumps:
Constructed of PVC or CPVC with EPDM elastomers to ensure chemical and temperature compatibility. The standard chamber accepts double open end (DOE) depth wound, pleated, melt blown, cleanable sleeve and carbon cartridges. A 222 O-Ring seat for single open end (SOE) cartridges is available.
- Simple carbon or resin treatment
Seal-less magnetic drive pumps:
The pumps are PP with EPDM O-Ring.
Single or double mechanical seals constructed of CPVC with EPDM elastomers and the highest grade, longest lasting silicon carbide seal faces.
- Filter chamber
Space-Saver 'J' systems are also available with optional purification chambers in PVC or CPVC with reusable PVC canister offering a low-cost, but effective method of continuously or periodically removing organic impurities from plating baths and other chemical solutions.
---
The SERFILCO® Space-Saver 'J' Series is engineered to provide reliable, high performance filtration in a small package. These compact pump and filter systems are popular for use on medium sized production tanks in the electronics and metal finishing industries. Featuring SERFILCO®'s non-metallic, leak-proof magnetic coupled pumps and industry proven Series 'J' filter chambers, these systems provide high flow and high turnover rates, assuring continuous particle removal. Space-Saver 'J' systems are available with or without a carbon or resin purification chamber.

F-215 Space-Saver 'J' Filtration Systems Product Bulletin
Download file

0884 Series 'LX', 'SX', 'SM', 'J' and 'GJ' Operation and Service Guide
Download file